Your success is achieved through three efforts
LEADING CHANGE
Experienced and qualified change management
93% reach their targets when change management is handled excellently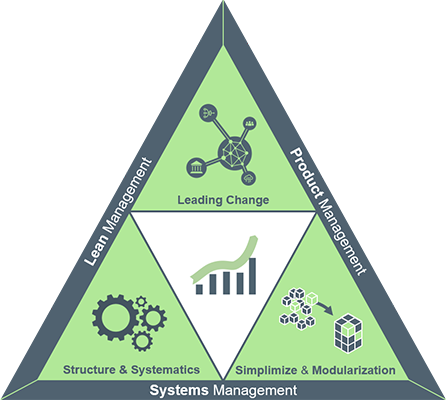 STRUCTURE & SYSTEMATICS
Use Systems Engineering as the foundation
91% of projects
based on Systems Engineering
reach their budget goals or achieve savings
SIMPLIMIZE & MODULARIZATION
Simplify, optimize and modularize
15% cost reduction
50% shorter delivery time
60% fewer part numbers
+100 MODELS, TEMPLATES AND WORKBOOKS
Changes shouldn't be based on gut feelings and guesswork.
It should be based on models that work.
We know the theory to our fingertips, and we have practical experience. That is why we can make real, long-lasting and positive changes.
When you cooperate with us, you and your team get access to more than 100 models, templates and workbooks from the methods we use and recommend.